Help
All TCS pages share certain common features. The Navigation Bar at the top and bottom of every page will always tell you where you are, and provides quick links to the main sections.
Hover your mouse pointer over part of this example page for a summary. Click the image to go to the detailed description.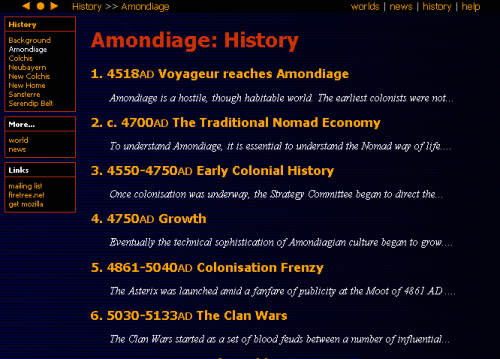 Navigation bar: Previous Page
The small left-arrow in the Navivation bar links to the previous page in the current sequence, if any. In the example, the previous page is 'History >> Background'.
Navigation bar: Go Home
The small yellow TCS logo in the navigation bar takes you to the TCS site home page.
Navigation bar: Next Page
[ back to top ]
Navigation bar: Page Location
The navigation bar contains the page location. In the news section this starts with 'news' and then displays the current world and current week.
Navigation bar: Jump to Sections
The navigation bar contains the normal section buttons. Use these to jump to details of the current world in the 'world' or 'history' sections; jump to the 'news' section index page or to this 'help' page for the news section.
[ back to top ]