Reclaiming the Mabon
In Celtic mythology, many stories are told of a mother losing her young child and going through long suffering before she gets him back. The archetypal stolen child is Mabon, son of Modron. Niall of the Nine Hostages is another. In this workshop we use a Scottish folk tale, The Stolen Bairn and the Sidh, as a starting point for a journey of discovery and the making of a ritual.
Mabon, who was taken from between his mother and the wall when he was three days old, is symbolic of our creative soul. Often, when we have finally found a project that makes our hearts sing, the confidence to see it through fails us. It is as though we have just given birth to something, only to lose it again. This workshop takes the form of a quest, an adventure, to reclaim our creative soul from those who stole it.
Folk stories taught their listeners how to deal with the common problems in life. We can use the wisdom of the story to create a ritual that brings back our creative potential in time for the growing season. Cricle building, dance and crafts take us into the realm of fairy and safely home again.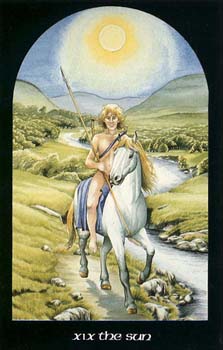 Details
1.30-5.30 pm Sunday, 6 March 2005
The workshop may be repeated at a future date, and you can book it for your group.
Reactions
I really got in touch with my creativity again. I picked up some creative projects I hadn't worked on in four years.
I started writing my third novel in this workshop.
After this workshop I will look at stories in a different way.